You can read about the different types of Flour on our Baking ingredients section.
Take note that the baking powder in Germany is single acting. The baking powder is South Africa is double acting. You can also read about this on the above-mentioned page.
Bran is called die Kleie and can be bought in supermarkets.
ALL BRAN RUSKS
Oven 160 degrees
1 kg self raising flour or 7 cups of all purpose flour and 7tsp of baking powder.
750ml bran flake (crushed) – see where you can find this here
1tsp salt
1 cup sugar
500g butter (baking type)
300ml milk
3 large eggs
Sift together flour, baking powder and salt add sugar and bran flakes.
Mix in butter until mixture is like "bread crumbs"
Whisk milk and eggs, add to flour mixture.
Mix well.
Press into baking pans cut into pieces with sharp knife and bake for 45min.
Once done, put onto drying rack and dry out in oven (50 degrees) over night.
Submitted by Yvette Antoinette von Solms
---
Zwieback
Rusk (Beskuit)

Zutaten:
1 kg Mehl (405)
15 ml Salz
200 ml Zucker
250 g Margarine
560 ml Buttermilch
2 Eier
25 ml Öl
30 ml Backpulver

Backofen vorheizen 180 °C
Backzeit 45 Minuten

Ingredients:
1 kg Flour (405)
15 ml salt
200 ml sugar
250 g margarine
560 ml Buttermilk
2 eggs
25 ml oil
30 ml baking powder

Pre heat oven to 180 °C
Baking time 45 minutes

Methode:
Mehl, Backpulver, Salz, Margarine zusammengeben.
Schlagen Eier, Zucker, dabei Öl und Buttermilch.
Fügen Flüssigkeiten zu trockenen Zutaten und gut mischen.
Verwenden Sie einen Ofen Servierpfanne Verwenden Sie Margarine zum Einfetten der Servierpfanne Dies ist die Mischung Kleben an der unteren verhindern.
Den Teig in der Ofenpfanne glätten auf die gleiche Dicke.
Backen Sie für 45 min.
Aus dem Ofen nehmen und abkühlen lassen.
Reduzieren Ofentemperatur auf 90 °C.
Nach dem Abkühlen schneiden und legen Sie wieder in den Ofen (90 °C) zu trocknen.
Schließen Sie nicht die Backofentür vollständig, lassen Sie die Feuchtigkeit entweichen. (A Kochlöffel in die Tür funktioniert gut).

Method:
Mix flour, baking powder, salt, margarine together.
Beat eggs, sugar, add oil and buttermilk.
Add liquids to dry ingredients and mix well.
Use a oven pan. Use margarine to grease the pan. This is to prevent mixture from sticking to the bottom.
Put the mixture in the oven pan and smooth out to the same thickness.
Bake for 45 min.
Remove from oven and leave to cool.
Reduce oven temperature to 90 °C.

Once cool, cut and place back into the oven (90 °C) to dry out. This can take up to 5 hours.
Do not close the oven door completely, let the moisture escape. (A wooden spoon in the door works well).
Submitted by Yvette Antoinette von Solms
9x250ml volkoringmeel
4x250ml koekmeelblom
45ml vlapoeier
25ml koeksoda
15ml kremetart
20ml sout
500ml suiker 6x250ml (1.5liter) karringmelk
500ml olie
60ml druiwe asyn
Voorverhit die oond tot 180C. Spuit twee groot broodpanne van 34x11x7cm met kleefwerende
kossproei of smeer goed met botter of margarien. Sprinkel 'n bietjie volkoringmeel
op die boom en teen die kante van die pan. Sif die volkoringmeel, koekmeelblom, vlapoeier,
koeksoda, kremetart en sout saam in 'n groot mengbak. Voeg die semels wat in die
sif agtergebly het, weer by. Voeg die suiker by meelmengsel en meng goed. Meng die
karringmelk, olie en druiweasyn en voeg by. Meng goed deur met houtlepel. Skep in
voorbereide panne en maak gelyk bo-op. Bak 1 uur lank of tot gaar en ligbruin van
bo en totdat 'n toetspen skoon uit die middel van die beskuit kom. Laat effens afkoel
en keer uit of draadrakke om heeltemal af te koel. Sny in stukke en droog uit by
100C. Lewer ongeveer 110 stukke
375g botter of margarien
470ml suiker
4 groot eiers
4x500g bruismeel
15ml anys
10ml sout
2.5ml kremetart
1 liter kookmelk
Smelt margarien of botter en suiker, laat afkoel en klop eiers by.
Sif droë bestanddele
saam en voeg saam met die kookmelk by eiermengsel.
Voeg anys by en maak aan tot 'n deeg. Laat 5 minute staan.
Rol in balletjies en pak teenmekaar in 2 gesmeerde broodpanne van 220x120mm.
Bak vir sowat 1 uur in voorverhitte oond by 180C tot gaar.
Laat afkoel en droog beskuit
uit.
550g bruismeel
15ml bakpoeier
250g Nutty Wheat
500ml geroosterde muesli
50g gekapte pekanneute
50g gekapte okkerneute
100ml sonneblomsade
50ml sesamesade
500g koue botter, in klein blokkies gesny .
100ml pampoensade
500ml karringmelk
380g suiker
10ml asyn
2 groot eiers
Sif die bruismeel en bakpoeier saam. Voeg die Nutty wheat, neute en sade by. Voeg die botter by en vryf dit met jou vingerpunte in tot dit goed gemeng is. Klop die karringmelk, asyn en eiers saam.
Voeg dit by die meelmengsel en roer tot al die bestanddele goed gemeng is. Verdeel die mengsel tussen twee broodpanne van 29x12cm.
Bak 50-60 minute lank in vooraf verhitte oond van 180C, of totdat mespunt skoon uitkom.
Haal die beskuit uit die panne en sny dit in stukke.
Verlaag dan die temperatuur tot 100C en bak dan die beskuit tot dit heeltemal uitgedroog is
750 ml melk
750 ml suiker
500 g botter of margarien
25 ml sout
3,75 kg koekmeelblom
3 pakkies kitsgis
1 liter water
3 eiers,geklits
Meng meelblom, kitsgis en sout saam. Kook melk, suiker, botter en water saam (oppas vir oor kook). Laat afkoel tot lou.
Voeg eiers by. Voeg melk mengsel by meel en meng.
Knie goed deur. (Indien 'n bietjie styf, voeg nog melk by.).
Maak warm toe en laat rys vir ongeveer 1½-2 uur of tot dubbel die grootte. Vorm balletjies, sonder om af te knie, en sit in gesmeerde panne.
Laat rys op 'n warm plek tot dit in grootte verdubbel het.
Bak vir 1 uur in 'n warm oond (180 C). Net voor dit uitgehaal word, word glassuursel
opgesmeer. (Klits 10ml suiker met 12,5ml melk en smeer bo-oor.)
Sit terug in die oond tot dit blink en goudbruin is. Keer uit op afkoelrakke.
Sodra dit koud is, breek in stukke en droog uit in lou oond, 100 C vir ongeveer 5 tot 6 uur.
1 kg volkoringmeel
500 ml koekmeel
250 ml klapper
500 ml fyngedrukte graanvlokkies
200 ml pitlose rosyne
125 ml sonneblomsaad
55 ml bakpoeier
10 ml sout
500 ml suiker
250 g margarien, gesmelt
250 ml sonneblomolie
1 liter kookwater
Stel die oond op 180C. Meng al die droë bestanddele, behalwe suiker saam. Giet die gesmelte margarien in ´n ander mengbak en voeg die suiker, olie en kookwater by.
Meng. Voeg by die droë bestanddele en meng goed. Skep deeg in 2 gesmeerde broodpanne.
Doop ´n mes in warm water en sny die deeg in blokkies.
Bak sowat 1 uur, of tot gaar, in die voorverhitte oond. Laat effens afkoel in die panne.
Keer uit, breek in stukke en droog uit
650 g koekmeelblom
15 ml kremetart
12,5 ml sout
400 g suiker
250 g botter, by kamer temperatuur
250 ml karringmelk
10 ml koeksoda
1 eier
Voorverhit oond tot 200C. Smeer 'n rolkoekpan van 45x30x2cm of bespuit dit met kleefwerende
middel.
Sif die koekmeeblom, kremetart en sout saam. Voeg die suiker by en meng.
Vryf die botter met die vingertoppe in die meelmengsel in totdat dit fyn gekrummel is. Meng 25 ml van die karringmelk met die koeksoda.
Voeg dit by die meelmengsel.
Klits die res van die karringmelk en die eier saam.
Hou 25 ml van die mengsel om oor die beskuit te verf en voeg die res by die meelmengsel.
Meng goed tot 'n deeg.
Verdeel die deeg in 8 ewe groot stukke.
Fatsoeneer elke stuk op 'n meelbestrooide deegplank om 'n wors van 28 cm en druk dit effens plat.
Sny elke wors in 4 ewe lang stukke.
Plaas die stukke effens uitmekaar in die pan.
Verf die oorblywende 25 ml karringmelk-en-
eiermengsel oor die beskuite.
Bak hulle sowat 30 minute of tot gaar op die middelste
oondrak.
Laat die beskuite effens afkoel, breek hulle oop en droog in 'n koel oond uit.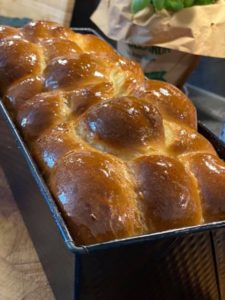 Mosbolletjies, recipe submitted by Yvette Antoinette von Solms Related content
Read More »
You can read about the different types of Flour on our Baking ingredients section. Take note that the baking powder in Germany is single acting.
Read More »
Ingredients: 1kg white bread flour1 tsp salt1 tbsp. sugar10g instant dry yeast60g butter, cut into small cubes600 ml lukewarm water Method: Mix the flour, salt,
Read More »