Brandenburg lies in the northeastern part of Germany and borders with Poland.
There are more than 500 castles and mansions, and over 10500 historical monuments.
When visiting Brandenburg, the focus should definitely be on having fun in water. There many thermal spas, lakes, wetlands and waterparks.
Besides the two national parks there are also 11 nature parks.
The official travel Website
Spreewald-Gurken (pickled cucumbers)
Lovely setting. Very child friendly with playgrounds and climbing and clattering places all around. There is even an elevated walkway to see the wolves better. 
Bus leaves from Eberswalde Hbf to Zoo every hour on 15 to 17. Ie. 10:17, 11:17 etc.
Bus back from the Zoo once per hour as well on 56. Ie. 15:56. 
By the way. The Spar, yes The Spar, in the Hbf sells a mean Bokwurst Semel. Decently priced as well.
As the bus lane also has to cross the train tracks, traffic can be slow back from the Zoo to Eberswalde Hbf, and the bus time is an indication only. The bus yesterday only came at 16:15 and we just made our connecting train back to Berlin Hbf 16:37.
One of the nice aspects is the educational interaction of the information displayed. Easy understanding in German. No English though, but explanations also in Polish as the Polish border is close by. A very enjoyable family outing.
Discover Hamburg Hamburg, officially the Free and Hanseatic City of Hamburg, is one of the three city-states (Stadtstaaten) in Germany, the others are Berlin and Bremen.It is
Read More »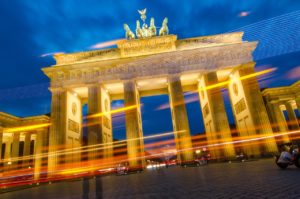 Berlin is one of the three city states (Stadtstaaten) in Germany, the others are Hamburg and Bremen.It is entrenched in History but is also the
Read More »
German Climate Germany's climate is temperate and marine, with cold, cloudy winters and warm summers and in the south occasional warm föhn wind. The greater
Read More »